With a goal of transparency,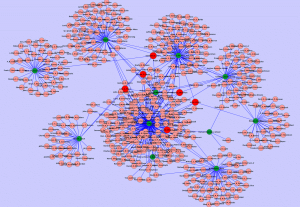 LittleSis.Org has started collecting peer-membership information for public figures of many sorts.  Just the stuff made for social graphs!
This is image represents the social networks of the CEOs of the American Wall Street companies, from the info at LittleSis.  Red nodes are the CEOs (Thain is included), and green are organizations.
The data is a work in progress, as it only represents a few organizations these folks are involved with; but a work in progress is progress indeed.
P.S. LittleSis: API pretty please!